Terjemahan

AmpenanNews.The commemoration of the 74th Indonesian Armed Forces of the Indonesian National Army in 2019 in Dompu District is filled with reforestation activities carried out by Kodim 1614 / Dompu district in Banggo Village, Manggelewa District, Dompu Regency, Monday (16/12).
The land and forest reforestation was led by Military District Commander (Dandim) 1614 / Dompu Lieutenant Colonel Inf Ali Cahyono, S. Kom., To plant 10,000 trees with several types of trees including jackfruit, embedded, mahogany and sengon trees.
On that occasion, Dandim Dompu  district conveyed the reforestation of land and forests in addition to commemorating the Indonesian National Armed Forces Army Day, also to restore the function of land and forests so that natural and environmental conditions are maintained in balance.
According to him, forests as a source of human life must be preserved by maintaining their existence and function, especially by not cutting down trees illegally and irresponsibly.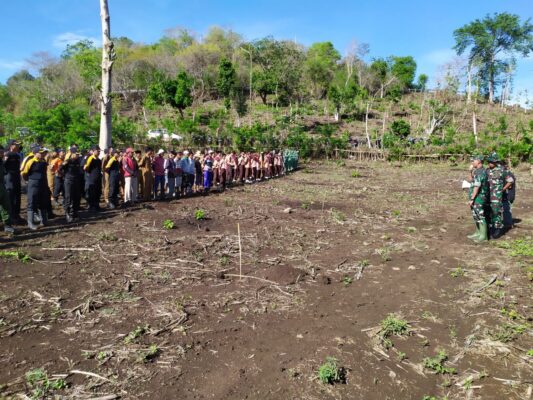 "After we replant, let us together look after, care for and preserve it so that the forest will return to function and provide benefits for human life, especially for our children and grandchildren going forward," explained Dandim.
Dandim also reminded to always keep the environment clean and not to throw garbage in rivers or gutters in the hope that the waterways will not be clogged or clogged due to garbage.
In addition to reforestation activities, Kodim 1614 / Dompu and staff will also carry out community service activities in the foundry of the mosque in Soriutu Village, Manggelewa District, and next Wednesday will carry out community service in cleaning the market in Dompu.
Also present was at the location of the Dompu resort district head and police chief, Manggelewa sector police chief, representative of the District Court Chief and Dompu District Attorney, Manggelewa sub-district Deliberation Commander, company commander of the Mobile Brigade headquarters, Section Officers and Danramil, Village Heads in Manggelewa District, students and the local community. Anr.